Greetings and Salutations!

Once again The MOM (Member Of the Moment) Committee has decided to recognize a member based on their contributions to the forum as a whole.

So without further ado: our choice for the fourth MOM award is thephantum (Steve).

Congratualtions Steve!

Regards,
The MOM Committee




Personal Info


Net name:

ThePhantum


Website: http://www.fm2cd.com
Real name:

Steve Leslie


Location:

Richmond, VA


Funniest wheeling incident:

Jeez, there's so many, but I'll go with this one...Wheelin at Shoe Creek and someone, we'll call him Tom (his wife will never let him bring the Jeep again if she finds out he might have broken it), managed to get hung up on what he called "a log". It was actually a large branch that had managed to wedge itself between the driveshaft, axle and the body. We got it pulled out no problem and no damage. Anyway, for the rest of the day whenever I saw so much as a stick on the trail, I would call out on the radio "Watch out for that log Tom" or "LOG!!!"...you really had to be there.


Are you secretly addicted to anything else besides wheelin?:

24...that show is like crack and Jack Bauer is the most hardcore, badass character on broadcast TV.


Best advice for someone thinking about getting into wheeling?:

Join a club and/or get with people that have lots of offroad experiance. Most of all wheel where it's legal!


What does your significant other think?:

That I should work on her Jeep more.


Personal Quote:

Lots of people seem to have quotes from me listed in sigs and elsewhere...so I'll just say "Rock On!"


Something random:

Snoochie Boochies?!?


Favorite Food:

mmmmm....medium rare steak...




Rig Info


Year/Model:

1997 2 door Cherokee Sport


Engine:

4.0L HO


Transmission:

AW4


Transfer Case:

NP231


Rear Axle:

D44


Front Axle:

D30


Gearing:

Stock 3.55's


Lockers:

None (yet)


Lift (BL/SL):

An almighty and totally bad ass 2"


Details of lift (parts etc.):

2" coil spacers, RRO 1.75" Shackles, 0.5" block, extended bumpstops front and rear


Rims:

15" x 8" AR Outlaw II's


Tires:

30" x 9.5' BFG MT's


Shocks:

Rancho 5000's (An XJ is about the lightest vehicle I would run them under...but if you like a soft ride, stay away from them)


Steering:

Bone stock


Other stuff (Bumpers, Armor, etc):

Skid Row LCA, Engine/tranny, T-case and Gas tank skids. Warn diff guards, front and rear reciever hitches, homemade discos, rear swaybay removed, all kinds of fender and flare whacking


Accesories (CB, GPS, etc):

Cobra CB with Firestick II, Garmin GPS V with remote antenna


Best helper building up the Jeep: Dale (MAJIKXMS)
Best Mod:

D44 with rear wheel disc


Worst Mod:

None to date


Future Mods:

Short Term

- Rear axle truss, Flowmaster 40, Beefing up the steering, plus lots of really small stuff.

Long Term

- 6"-8" of total lift, front and rear lockers, 4.56 or 5.10 gears
Worst legal violation:

Only thing would be tires beyond the flares, but that ain't illegal here in VA.


Worst stuck:

Not exactly a stuck, but pretty close. Going up this really narrow and fairly steep ATV trail at Rapidan and it starts to get so narrow that I can't get the XJ through it. So I find a spot and go to turn around. The problem is that at the time my rear axle was slightly bent on the drivers side so the Jeep already had a lean that way. So as I was turning around the Jeep felt like it wanted to roll. Plus it had been raining all morning so the terrain was extremely muddy and slippery (which is why I did not want to back down), so every time I made a move the Jeep wanted to slide into either a tree or a rock. Not to mention the fact that if I did roll it, recovery was going to be very difficult if not impossible based on the terrain and the location I was in. Needless to say it took me nearly 10 minutes to make a 5 point, white knuckled u-turn and get the hell out of there damage free (I don't consider brush marks damage).


Clubs: Follow Me To Certain Death Jeep Club - VA Chapter
Assocations: United Four Wheel Drive Association, North American XJ Association
Affiliations: Tread Lightly, Blue Ribbon Coalition

A recent sighting of me at Rapidan:



A little climbin':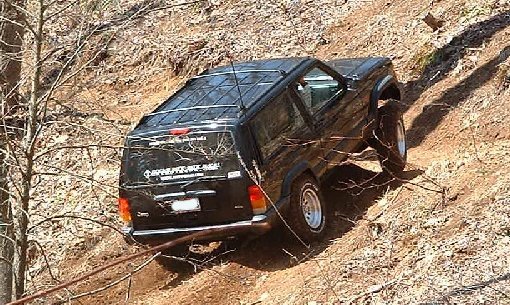 After some mud ruts at Shoe Creek: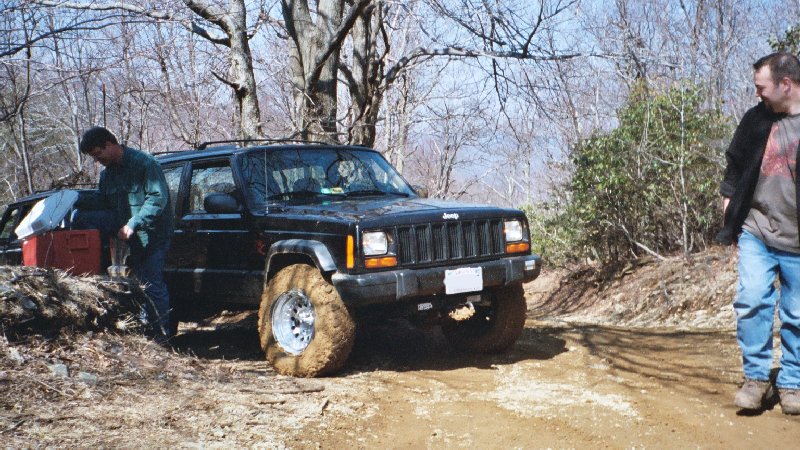 Seconds after completing the "Turnaround Incident":



The clean Heep (very rarely seen):

[/quote]