After taking a break for the holidays, the MOM (Member Of the Moment) Committee has decided to once again recognize a member for their contributions to Jeep Horizons as a whole.

So without further ado or delay: our choice for the January 2005 MOM award is majikxms.

Congratualtions!

Regards,
The MOM Committee

*******************************************************



Personal Info


Net name:

majikxms


Website: majikxj.htm and props to the club FM2CD.com
Real name:

Dale


Location:

Richmond, VA


Funniest wheeling incident:

The funny part about this is that the July MOM has the same funniest moment. Copied from "The Phantum": "Wheelin at Shoe Creek and someone, we'll call him Tom (his wife will never let him bring the Jeep again if she finds out he might have broken it), managed to get hung up on what he called "a log". It was actually a large branch that had managed to wedge itself between the driveshaft, axle and the body. We got it pulled out no problem and no damage. Anyway, for the rest of the day whenever I saw so much as a stick on the trail, I would call out on the radio "Watch out for that log Tom" or "LOG!!!"...you really had to be there." Who is this Tom guy Phantum speaketh of?


Are you secretly addicted to anything else besides wheeling?:

Ya know the night before a trail ride how you can't sleep cause you're too excited, I get that way the night before a deer hunt too.


Best advice for someone thinking about getting into wheeling?:

Two things: 1. Learn to wheel that stock monster before the mods. 2. Something's gonna break!!!


What does your significant other think?:

I'll just say this, "I have to find ingenious ways to buy parts."


Personal Quote:

That's good stuff.


Something random:

Hairless cats!!!


Favorite Food:

Anything that looks like ass but is not ass is usually good (ex. Have you ever opened a Taco Bell bean burrito…yummy!!!)





Rig Info


Year/Model:

1998 Cherokee Limited (4 door)


Engine:

4.0L


Transmission:

AW4


Transfer Case:

NP231


Rear Axle:

Dana 35


Front Axle:

Dana 30


Gearing:

3.55


Lockers:

none


Lift (BL/SL):

Coming to my XJ this month


Details of lift (parts etc.):

See "Future Mods"


Rims:

Stock


Tires:

30x9.5/15 BF Goodrich A/T's


Shocks:

Stock


Steering:

Stock


Other stuff (Bumpers, Armor, etc):

OEM Steering Box Skid and Gas Tank Skid


Accesories (CB, GPS, etc):

GPS and allot of maps, D-Ring apparati for the hitch, CB, FRS', Tire Deflators.


Best helper building up the Jeep:

Steve a.k.a. The Phantum


Best Mod:

So far it's been the tires


Worst Mod:

I'll tell you next month.


Future Mods:

This month I and others will be installing a Rocky Road 2" B/B. DPG Offroad bumpstop plates, JKS BPE's all around if I decide what shocks I want, heavy duty U-bolts, C4x4 front tow hooks and possibly upgrading the exhaust system (at least a new Cat Converter).


Worst legal violation: Not during wheeling, but I was going to a trail ride: Illegal Rear Window Tint…read the FM2CD at Shoe Creek on 8/28/04 post clicky
Worst stuck:

Driving a red 90 XJ stock: Hunting in South Georgia I talked my buddies into going mudding at midnight. Needless to say all three of us got stuck up to the axles and the come-along broke in the process of trying to get us out. It was too far to walk back to camp so we slept in the trucks. At dawn we took a look at the stuck vehicles and decided to hunt. We had already got my friend's Dad on the CB and he was going to bring a few trucks to get us out, two of them got stuck too. Finally got Jeep unstuck at around 4PM. On the way out I got stuck again with a deer on the hood. That was a sight, sorry no picture of that one.


Clubs: Follow Me To Certain Death Jeep Club - VA Chapter
Assocations: United Four Wheel Drive Association, VA Four Wheel Drive Association
Affiliations: Tread Lightly, Blue Ribbon Coalition


Crossing Shoe Creek:



Two words that "DO" go together: STOCKER and FLEX!!!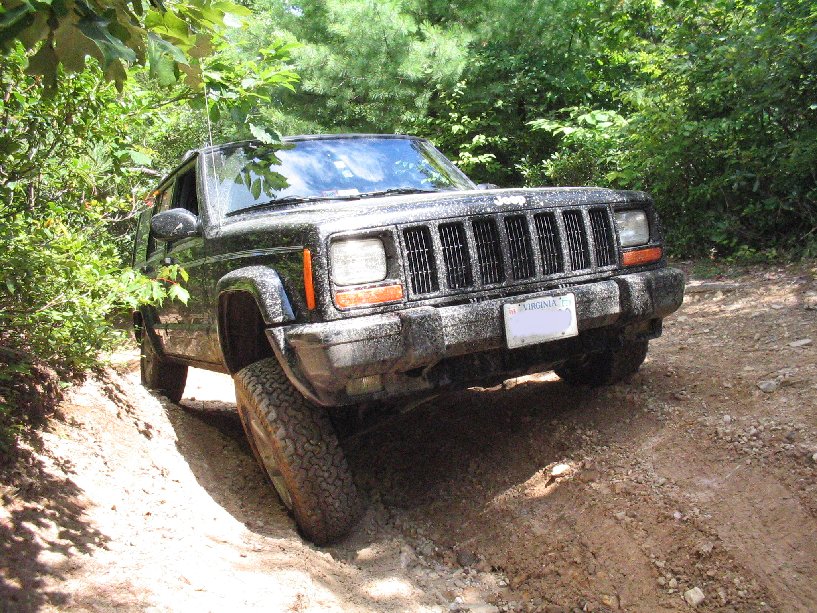 Does a bear shit in the woods...well then, so do I.


Yeah, I know I'm an idiot, but it's funny.