All XJ's have Dana 30's in the front from the factory. The 97 model has a high pinion, non vaccuum disconnect version.

Lunchbox lockers (LockRite, Powertrax, EZ Locker, etc.) are fairly inexpensive, easy to install with basic handtools and work well in daily driven vehicles. They do however make noise in corners...generally clicking, ratcheting and/or clunking. Other types of lockers are going to cost you more because you will have to do a full gear setup done to get them installed.

As for the Cryco 8.25 rear axle. Finding lunchbox's for them has been a challenge in the past. Last I checked, Richmond gear was making Lock rights and Powertrax's for 91-96 8.25's but not for 97's and up (which have slightly thicker axle shafts then the earlier models). I don't believe Detriot gear makes EZ Lockers for any 8.25's.

If you are going to swap it out, I would not put in a D35. I would find a D44 and swap it in....oh wait...that's exactly what I did.

_________________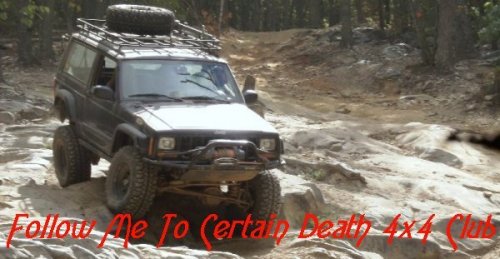 97 XJ Sport with a bunch of stuff